Why We Give, As a Company and As Individuals
By Staci Remley, Operations Manager
As an agency recently celebrating our 60th anniversary as a local, independent, privately owned insurance agency, we are extremely proud to be considered part of the fabric of our local community. In a world in which agencies like ours are increasingly rare, we feel a commitment to our neighbors and fellow residents of the town we call home.
We are dedicated to the idea that there is still a place for a hometown agency that knows its clients by name, even as the large corporate agencies continue their acquisition spree. Our leadership has consistently maintained the difference it can make when we as individuals truly get to know the community we are serving, both as professionals and each of us personally.
Along the way, we have been fortunate to become recognized by our building, our people, and by our reputation for personal service and attention. Finding a welcome home here at 21 Mile and North Ave. in Macomb Township for 30 years plus, we are equally committed to giving back to the community that we call home.
Making a Difference Truly Makes a Difference
I personally have been actively involved with local nonprofit organization The Macomb Charitable Foundation since 2006, when my children were in school adopting a family to support each holiday season. Though my children would eventually grow up and move on, I felt a desire to keep supporting this charity that shared my own commitment to helping our neighbors in need. When I approached the agency's owners about joining me in adopting a family through the Foundation, they instantly gave the idea their blessing.
What we share with and like about the Macomb Charitable Foundation is its dedication to the notion that "charity begins at home," as they say. Their mission statement reads, "...to help children living at or below poverty level in Macomb County. Our goal is to alleviate the suffering of children and their families by providing financial assistance for items such as but not limited to; food, clothing, personal care items, rent/utility assistance, vehicle repair, educational assistance and when available personal & spiritual mentoring."
Every year since taking over the annual project as a company, we have been working together to provide a local family in need the holiday season they deserve. Though giving back to our local community is a reward unto itself, it is a letter like this that reminds us that we truly are making a difference in the lives of those we work to help:
You can read the whole letter, as well as those from the children in the family, here.
Giving Back Isn't Just Seasonal!
Our team member Frank noticed that the Foundation collects personal care items throughout the year and distributes them to local families in need. This is a great reminder to keep our neighbors in need in our thoughts and actions throughout the year — not just during the holiday season.
As another way to support the cause we decided that, for each new prospect responding to our local mailers, we would make a financial contribution to the Macomb Charitable Foundation. This is just another way we can share our good fortune that comes from getting to know our neighbors and paying it forward, all while working to raise awareness for our committed nonprofit partners.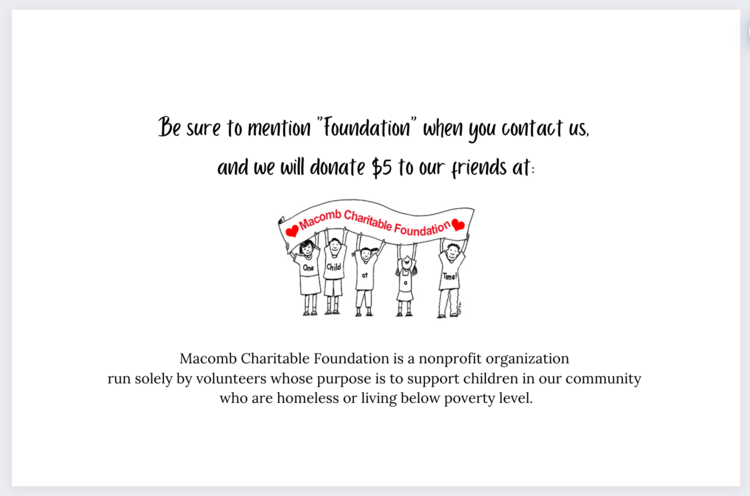 Of course, our giving-back initiative doesn't begin and end with one lone partnership. In future articles, we will take a closer look at some of the other projects and passions our team members commit themselves to as a way of giving back. We will highlight Frank's volunteer work with Friends of Foster Kids, profile various fundraisers and charity events we support throughout the year (both as individuals and as a company), and share our involvement with the Macomb Township Parks & Recreation Department, which itself provides so many opportunities and options for Macomb Township residents.

If you would like to follow along with our various events, community involvement, and charitable initiatives, like our Facebook page, where we share our commitment to the community every day!